FCCC Staff

Donna Guzzo, CNE, CDE, CNC
President, Executive Director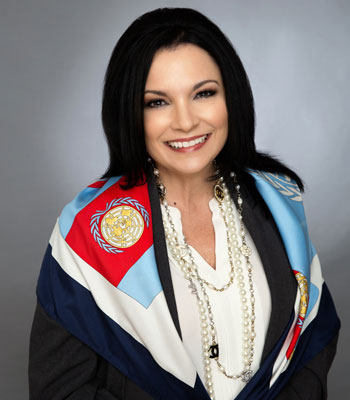 Donna Guzzo an extremely well-connected leader in the Jacksonville, FL and surrounding areas has recruited substantial support for the Cultural Center. She is an accomplished businesswoman and has demonstrated her passion for the Cultural Center's mission as the leading provider of arts programs for St. Johns County.
Guzzo was recently recognized at the Association of Fundraising Professionals annual luncheon in Jacksonville and was the recipient of the 2021 Dr. Gail Pflaster ROWITA (Recognizing Outstanding Women in the Arts) Award. She has experience sitting on national boards for the American Cancer Society, United Way, the Arts and World Languages, to name a few.  

Following a career in banking, Guzzo held leadership positions in nonprofits for more than 30 years. No stranger to St. Johns County School District she founded the nonprofit Language Exploration Enrichment (LEE) established in 2003, a language-instruction program. Guzzo has been honored as a Florida Foreign Language Most Valued Educator five times. In 2018 Guzzo was inducted in the Educator's Hall of Fame for the State of Florida. 

You may have read a recent article about her as the Top Ten who make a difference in St. Johns County. She is a graduate of The Jim Moran Institute Global for Entrepreneurship and Leadership St. Johns 2018 Class.
In recent years she has been a featured speaker at international conferences as Ambassador of the United Nations #Teach SDGs, Teaching and promoting the sustainable development goals at Harvard University, Providence University in Taiwan, The United Nations in NYC, and Geneva, and at The Vatican. 

Donna is married to Glenn Guzzo, an author, and the former editor in chief of The Denver Post. Their daughter, Scheherazade, is a former actress, was valedictorian for her entertainment business degree, and took Barry University School of Law for the first time to nationals. She now works for the State Attorney's Office as a Prosecutor in West Palm Beach, FL.
Toni Thomas
Programs Manager
Toni Thomas joined the First Coast Cultural Center as Programs Manager in April 2022, bringing a decade of experience in nonprofit programming. After receiving her master's degree, Toni became Manager of Community Involvement at Second Harvest North Florida food bank in Jacksonville, overseeing a robust volunteer program. Later, she spent four years in the state capital of Tallahassee working on child nutrition advocacy and grant programs, often collaborating with school districts around the state, state agencies, and national organizations including YMCA of the USA, No Kid Hungry, National League of Cities, and the Food Research and Action Center.
Toni also presented on statewide and national platforms in this capacity. In joining First Coast Cultural Center, Toni has shifted her focus to nonprofit arts programming, and manages our seasonal art camps, classes and workshops in the studio, the Kick StART afterschool art enrichment program in St. Johns County Schools, and art exhibitions. In 2022 Toni completed the Nonprofit Executive Program through the Jim Moran Institute for Global Entrepreneurship, part of Florida State University's College of Business.
Toni has always enjoyed bringing creativity into daily life through writing, photography, and interior design. Now, she loves supporting her young daughter's interests as a budding artist. Toni has a Bachelor of Arts degree from the University of Central Florida and a Master of Arts degree from the University of Florida.
Callie Johnson, CDE
Community Connections Manager
Callie Johnson was born and raised in Jacksonville, FL and has always had a passion for her community. She received her Bachelor of Arts degree from Jacksonville University in communication and Master of Science degree from the University of North Florida in communication management, specializing in nonprofit management. Aside from her passion for the art of communication, Callie is a certified wedding and event planner, a self-taught baker, and is involved in her church as a member of the worship team.
She has also been a volunteer in many different organizations over the course of her life, including Ronald McDonald House Charities, the Florida Forest Service, St. Johns County School District, and Women for Glory a local chapter of Grace for Glory Global Ministries. During her childhood, volunteering, music, and art were a crucial part of her development and will always be a passion of hers.
Callie has been a member of the First Coast Cultural Center team for two years and is very passionate about her role as the Community Connections Manager. Since she was hired, she has gained experience, and is a Certified Development Executive, and has begun her development training. Callie is excited to see where her future with FCCC takes her!
Kimberly Weaver
Assistant to the President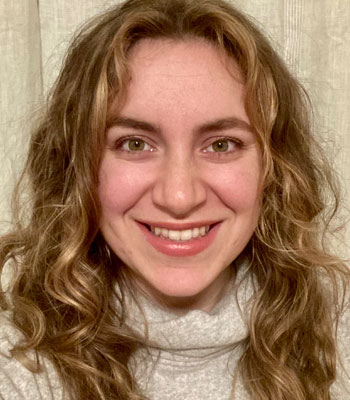 Kimberly Weaver has been with the First Coast Cultural Center for one year as part-time Assistant to the President and Executive Director, Donna Guzzo. She works with General Membership, the FCCC Artist Market, exhibits, and administrative related needs. When Kimberly is not at the studio or is working remotely, she can be found in Duval and St. Johns County schools as a Kick StART instructor for FCCC. Kimberly has long had a passion for art and enjoys teaching art to children in our community.
Before her time with the Cultural Center, Kimberly graduated from the University of North Florida in 2020 with a Bachelor of Arts degree in Psychology and a Minor in Creative Writing, after which she received teaching experience working at a preschool in Orange Park, FL. It is her enjoyment of teaching that first led her to the First Coast Cultural Center where teaching and art could be combined with Kick StART. Kimberly enjoys spending free time with her husband (newly married as of October 29th, 2022) and their families, playing board games with friends, caring for her pet quaker parrot, and dabbling in art and music.
Candice Sirak, MT-BC
Manager, Sound Connections(r)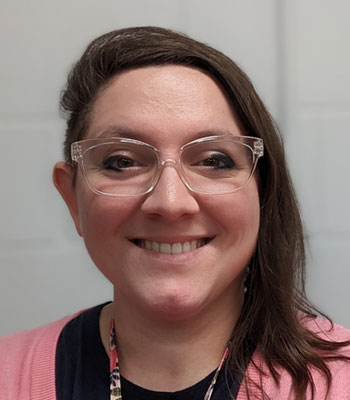 Candice Sirak graduated from FSU with both her bachelor's and master's degrees in Music Therapy. Through Sound Connections(r), she can share her passion for music and helping others by working with students in St Johns County. She has always loved singing and making music.
When Candice is not making music, she likes to make other things such as crochet and craft projects and participates yearly in a weeklong scavenger hunt focusing on creativity and philanthropy. An Orlando native, she lives in St Augustine, FL since 2014 with her husband and three sons.
Caroline Jaeger, MT-BC
Music Therapist

Caroline Jaeger achieved her music therapy degree at Florida Gulf Coast University and completed her internship at "The House of Music Therapy," a private practice in Fort Myers, FL. Caroline has a passion for theater and the performing arts. She was a previous character performer for Walt Disney World through the Disney College Program. In her free time, she enjoys reading a good novel, watching movies, and spending time with her husband.
She is happy to be serving the Saint John's County schools and giving back to a school system that she attended. Caroline believes in the power of music therapy that provides a voice to others and looks forward to the impact that music therapy will have on the Jacksonville, FL area!