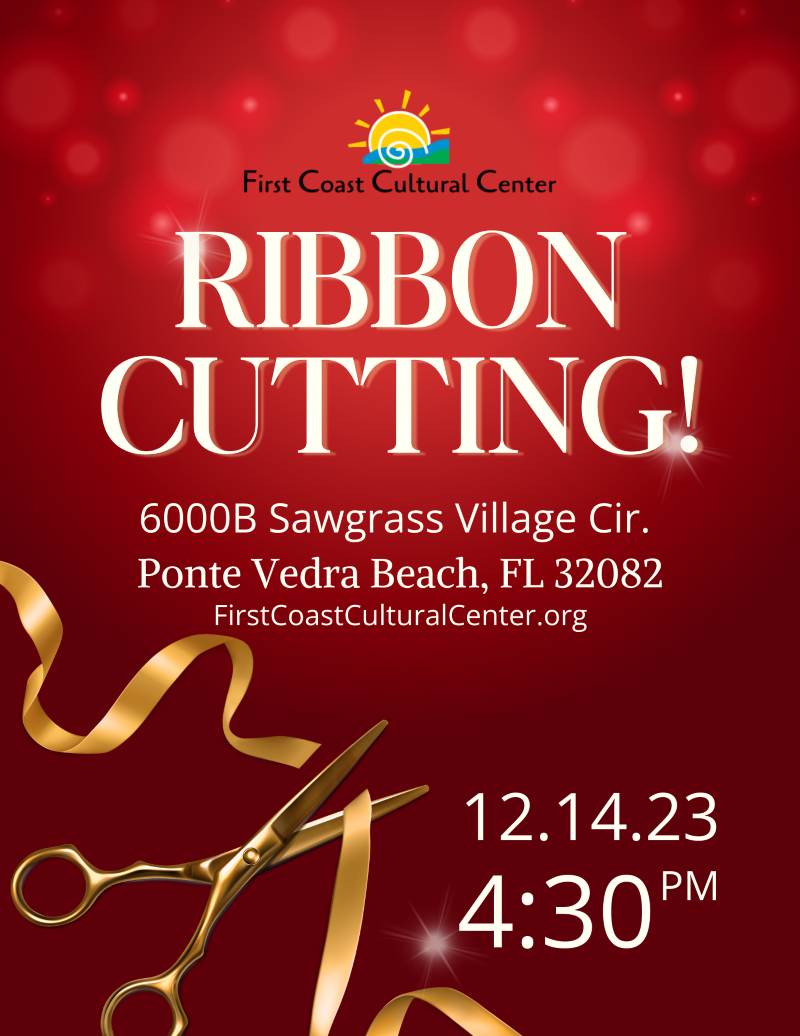 *FCCC's new building will not be available to the public until this ribbon cutting event.
For your enjoyment, libations, sweets, a DJ, a photo booth, and a cellist will be provided.
FCCC's New Building
6000B Sawgrass Village Cir.
Ponte Vedra Beach, FL 32082
Thursday, December 14, 2023
4:30 - 7:30 PM


Care Connect+ in Nocatee is a new community space partner! Thank you Care Connect+ by Flagler Health+
On January 4, 2021, First Coast Cultural Center opened its new facility in Jacksonville Beach, the first step in expanding its services to reach more artists, art students and art lovers in Northeast Florida.
The new studio is located at 3972 3rd Street South, Jacksonville Beach, FL 32250 in the Trader Joe's shopping complex.
It will house classes in visual arts and music, plus workshops, camps for children and the Cultural Center's popular Market, where various artistic creations by local artists provide gift and decorative options in a wide range of prices.
First Coast Cultural Center, a St. Johns County icon for more than a quarter century, is shifting its services from its former headquarters at 50 Executive Way in Ponte Vedra Beach. That building has been sold to Roanoke Vinton Radio Inc., a Virginia corporation.
"That building served the Cultural Center and its array of artists and students very well for 26 years," Executive Director Donna Guzzo said. "It was showing its age, however. And COVID conditions were limiting the space we could use for most of 2020 and into 2021.
"In addition to the new Jacksonville Beach studio, the Cultural Center Board of Directors is pursuing additional facilities in Nocatee," Chairman-Elect Joe Bryant said. "Nocatee already represents a significant—and growing—percentage of activity at our Ponte Vedra site.
"When fully realized, the Cultural Center will be offering more services than ever in proximity to more residents than ever – in Ponte Vedra Beach, Jacksonville Beach and Nocatee—at least."
The Cultural Center was voted by Beaches-area readers of the Ponte Vedra Recorder as the best Art Gallery and the best Specialty School for 2020. This past year it hosted a national exhibit featuring works by Andy Warhol and the "Loving Beethoven" interactive exhibit from Spain, supported by Robert and Monica Jacoby, as well as exhibits by local master artists such as Ellen Diamond and Suzanne Schuenke. Classes and workshops led by master artists from throughout the country have been staples at the Cultural Center.
The Sound Connections® Music Therapy program for children with special needs has expanded from 4 St. Johns County schools to 6, including 2 Title 1 schools in the south of the county. The expansion is supported by the Delores Barr Weaver Legacy Fund and The Community Foundation of Northeast Florida.
The Kick StART program kicked off the school year at PVPV/Rawlings Elementary, Picolata Crossings Elementary, Palencia Elementary, Ocean Palms Elementary, Freedom Crossing Academy, Pine Island Academy, and Palm Valley Academy. The program is supported by the Dr. JoAnn Crisp-Ellert Fund at The Community Foundation for Northeast Florida and by The Lazzara Family Foundation.