Kids' Night Out is Back!
5:30-8:30 PM; multiple dates throughout the year
Kids ages 5-11
Located at First Coast Cultural Center (3972 Third St. So., Jacksonville Beach)
Cost: $45 for FCCC members; $50 for non-members
Advance registration required
Coming up next:
Thursday, February 9th (Valentine's Day theme)
Friday, March 17th (St. Patrick's Day theme)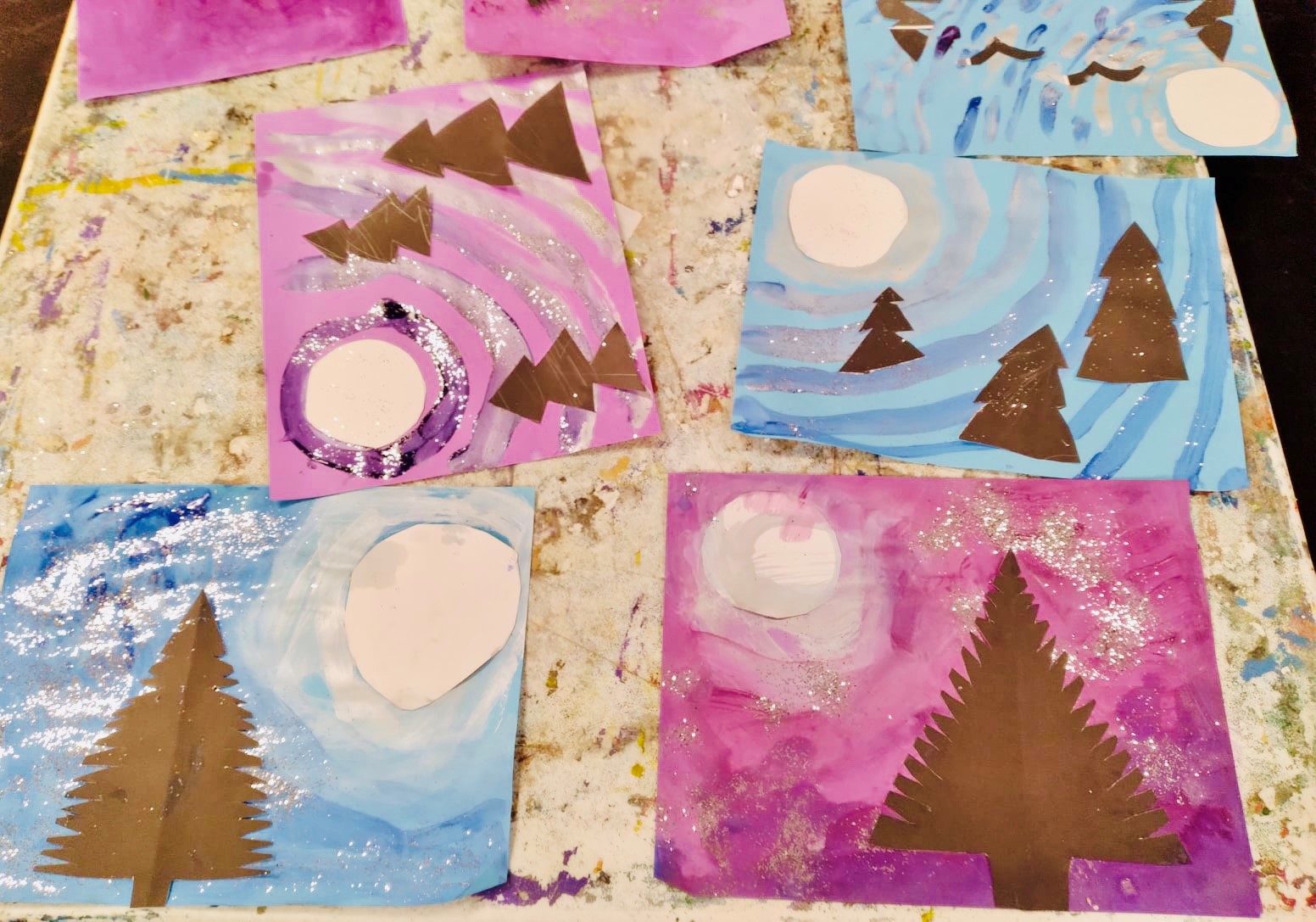 Parents, drop off the kids at the Cultural Center and enjoy your evening while we host a holiday-themed Kids' Night Out for children ages 5-11. Our teacher will lead a fun evening of activities including themed arts and crafts, pizza for dinner, and more. Our February Valentine's Day themed Kids' Night Out will be taught by Kimberly Sheridan, and our March St. Patrick's Day themed Kids' Night Out will be taught by Charlotte Chastain. Both instructors are also Kick StART afterschool art enrichment teachers in St. Johns County Schools with the Cultural Center. Before each Kids' Night Out we will provide parents with more details about the specific planned activities.
If your child has a gluten or dairy intolerance or allergy, please let us know so that we can make appropriate food arrangements.
Weekly Youth Drama and Improv Class with Sheri Lahris - Saturday Classes
Saturdays from 11:30 AM - 12:30 PM in Nocatee Health Village starting August 2022
Flagler Health+ - 351 Town Plaza Avenue, STE 205
Monthly bundles available - ex: $100 for August 2022 ($25/class)
Open to children ages 9+
Advance registration required
Class Description:
Have tons of fun learning about drama and improv, building skills and technique, while you hone your skills with an expert! Dive into the world of acting through improvisation, monologues, scene work and more. Beginners and veterans will take their craft to the next level while having fun in a relaxed atmosphere! Tailored to meet the needs and goals of the individual student: auditions, characterizations, drama, comedy, you name it. Sheri Lahris has an absolute dedication to the dreams, passions and growth of each and every student. Her goals are to nurture, educate and guide students to grow, and strengthen in their craft. Varied and innovative programs provide students with the specialized skills and vital information they will need in order to best succeed.The class meets the needs of aspiring beginners, as well as the seasoned professional. Her philosophy is to serve those who possess a strong commitment to their craft, and provide them with the guidance and tools they will need in order to cultivate and develop their varied talents.
Note from the instructor:
"I believe the secret for actors is to have excellent teachers/mentors on their journey. I have taught actors for over 35 years, and the one thing that is very very clear to me is like in any profession, those that train and work hard do the best, and are of course the most fulfilled.
I began my career by teaching child actors on the set of Disney, MGM & Universal Studios, and was lucky enough to teach students like McCully Culkin, Keri Russell, Ryan Gosling and many other child stars. I worked on location and sound stages for TV sitcoms and feature films. At Nickelodeon I taught Melissa Joan Hart (Clarissa Explains it All), and Mario Lopez of (Saved By The Bell). I enjoyed working on many Universal movies like 'Passenger 57' with Wesley Snipes, and 'Matinee' with John Goodman, and a TV series called "Heavens to Betsy" with Dolly Parton. Working 6 years in Orlando and being "in front" and "behind" the camera prepared me very well to understand the business.
My approach is very hands-on and customized for each student. I teach all levels and ALL ages … I love what I do."
Birthday Party!
Spend time with your friends creating unique art and celebrating your birthday!
Choose from one of our packages with a professional artist. (Based upon artist availability.)
1. What is Your Watercolor?
2. Dare to Draw
3. "It's All About You": Improv and Art
To learn more or check on availability, contact Kimberly Sheridan at 904-280-0614 ext.1205 or This email address is being protected from spambots. You need JavaScript enabled to view it..
Virtual Music Lessons with Sabrina Krisberg
Private Piano or Orchestra with Sabrina Krisberg
Tuesdays as scheduled
All Ages
Cost: Varies
Don't miss your opportunity to unleash your creativity in one of our many art classes and workshops. If you are an artist, novice or professional, we have programs that will enhance your creative process and artwork. Pre-Registration is required for all programs. All supplies are included unless otherwise noted. Please review our Program Policies before registering. If you are unsure about the status of your membership, please call 904-280-0614 ext. 1206. If you would like to become a member of the Cultural Center, please visit membership. If you have a child with special needs, please call TWO WEEKS prior to registration to ensure we can provide adequate services for your young artist.
These programs are sponsored in part by the State of Florida, Department of State, Division of Cultural Affairs, National Endowment for the Arts, and the Florida Council on Arts and Culture.
First Coast Cultural Center is supported by a grant from the Dr. JoAnn Crisp-Ellert Fund at The Community Foundation for Northeast Florida. The funds will be used to support the Kick StART afterschool visual arts program at Osceola Elementary, a Title 1 school in St. Augustine.
About The Community Foundation for Northeast Florida
Now in it's 56th year, The Community Foundation for Northeast Florida (www.jaxcf.org) is Florida's oldest and largest community foundation. The Foundation works to stimulate philanthropy to build a better place. The Foundation has more than $482 million in assets and has made grants in excess of $550 million since 1964.
First Coast Cultural Center is a proud supporter of the Sustainable Development Goals, a United Nations initiative.
Discounts for Cultural Center Members!
Contact Kimberly Sheridan at 904-280-0614 ext.1205 or This email address is being protected from spambots. You need JavaScript enabled to view it..